Forthcoming Concerts
An Orchestral Christmas Festival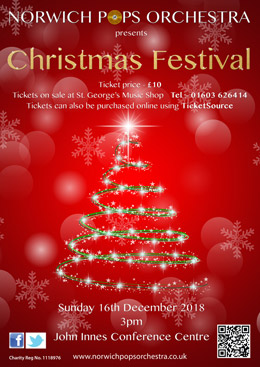 Sunday 16th December 2018
3pm
John Innes Conference Centre
Norwich Research Park
Colney Lane
NR4 7UH

The festive programme includes:

Sleigh Ride
Christmas Festival
Selections from White Christmas, Frozen and The Greatest Showman
Christmas at the Movies including music from classic Christmas films such as Polar Expres, Miracle on 34th St and Home Alone
Have Yourself a Merry Little Christmas
The Christmas Song
Christmas Carols....and more!

Ample FREE car parking is available at the conference centre.
---
Traditional New Year's Day Viennese Concert 2019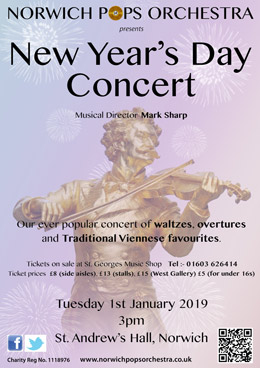 Tuesday 1st January 2019
3pm
St. Andrew's Hall
St. Andrew's Plain
Norwich
NR3 1AU
Our ever-popular afternoon of walzes, polkas, marches and overtures to bring in the new year with a bang.
Programme will include:
Carousl Waltz: Rodgers
Estudiantina: Waldteufel
Overture from Orpheus in the Underworld: Offenbach
Belle of the Ball: Anderson
A Guid New Year: Trad. Arr Geoff Davidson
Light Cavalry Overture: Suppe
Figaro-Polka: Johann Strauss Sohn
Einzugsmarsch: Johann Strauss Sohn
Mascarade, Waltz: Khatchaturian
Ballsirenen, Waltzes from The Merry Widow: Lehar
Radetzky March: Johann Strauss Snr
The Blue Danube: Johann Strauss
---